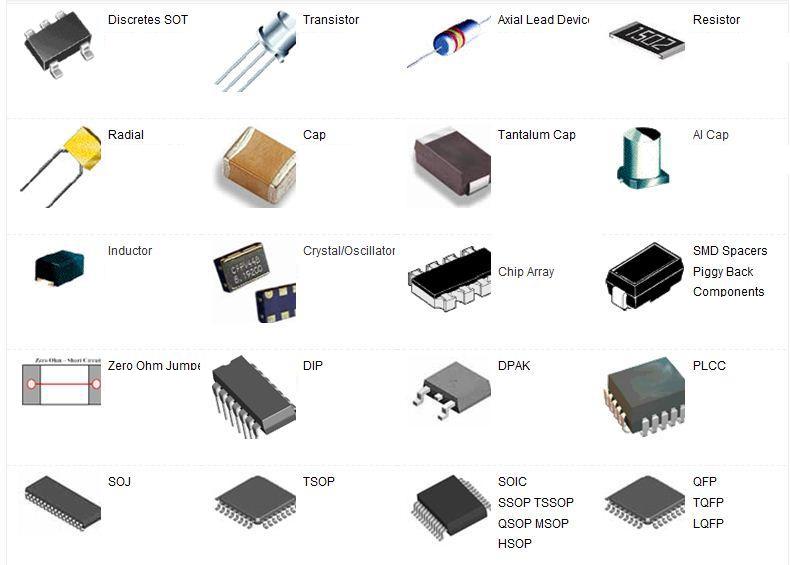 1. Tape
There are two ways: paper tape packaging and plastic tape packaging. Paper tape is mainly used for packaging small-size chip resistors and capacitors. Plastic tape is used for packaging various chip leadless components, composite components,odd-form components, SOT, SOP.
2. Tube
Tube package is used for SOP, SOJ, PLCC.
3. Tray
Components will not move during transportation and will not collide with adjacent components when using tray package. Tray package is mainly used for components that require high coplanarity or large size.
4. In bulk
In bulk package is mainly used for chip leadless components, rectangular and cylindrical capacitors, resistors.
Components Type

Footprint

Shape

Packing

Chip Transistor

MELF

(Metal Electrode Leadless Face)

Tape or

in Bulk

SOT23

(Small-outline

Transistor)

SOT89

SOT143

Integrated Circuit

SOP

(Small-outline

Package)

Tape, Tube or Tray




SOJ

(Small-outline

J-lead Package)

PLCC

(Plastic Leadless Chip Carrier)

LCCC

(Ceramic Leadless Chip Carrier)

QFP

(Quad Flat-pack Package)

BGA

(Ball Grid Array)

Flip Chip

QFN

(Quad Flat Leadless Package)
Relate News